Setting up and installing Google Analytics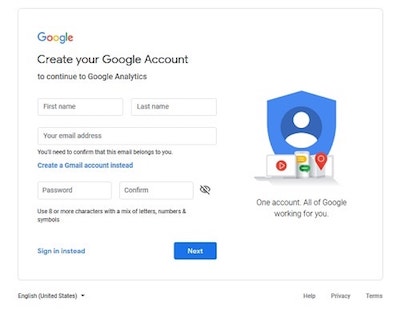 Setting up Google Analytics is straightforward. Start by going to analytics.google.com and registering for a free account.
On the next screen, click Sign up for your website.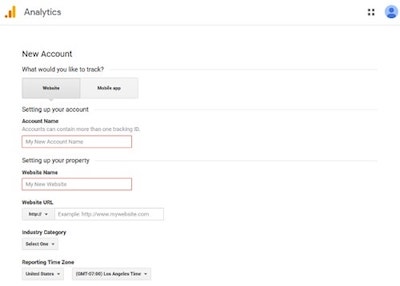 Choose your account name and website name, and add the URL of your website. You should also pick your industry category. If there isn't an exact match select one that is as close as possible or "other."
Be sure to select your appropriate time zone, too. This will make sure the data is in line with your business hours of operation. Leave all the data-sharing boxes set to on (checked) unless you have specific regulatory reasons for not doing so.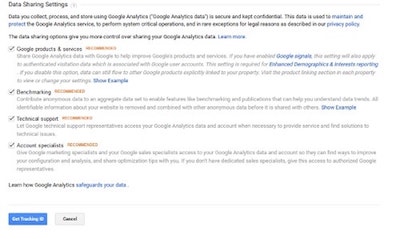 While that may sound daunting, most WordPress themes provide an area to copy and paste scripts into the Header area of your website. Check in Appearance > Customize > Theme Options (or your separate Theme Options panel if your theme has one) to see if that is offered by your theme.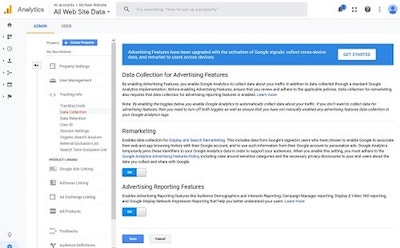 Under Data Collections, you'll also want to make sure that you have demographic and remarketing turned on. While you may not need these features out of the gate, we want to have that data accumulating for us from the start for when you do.
Setting goals and goal values
A simple example is tracking eBook sales, as shown above. When you get in and start playing around with goals, you'll see all the various options available to you to track pretty much anything you want.
A brick-and-mortar retail store might value when prospective customers visit their store location/driving directions page. After all, someone seeking driving directions to your store is exhibiting intent. We then can interpret the value of someone looking for directions and correlate it with the number of people who actually show up at the store.
What is the value of a newsletter subscriber to your business? What is the value of a demo request? We can ascertain that the value of those leads is a percentage of the economic value of a closed sale, divided by the closing rate of qualified leads. I know, that starts getting complicated but you get the idea of the potential!
What is web analytics?
Web analytics is the collection, reporting, and analysis of website data through server logs or code embedded on webpages. The primary purpose of website analytics is to benchmark website performance and to track user behavioral data by creating and measuring Key Performance Indicators (KPIs).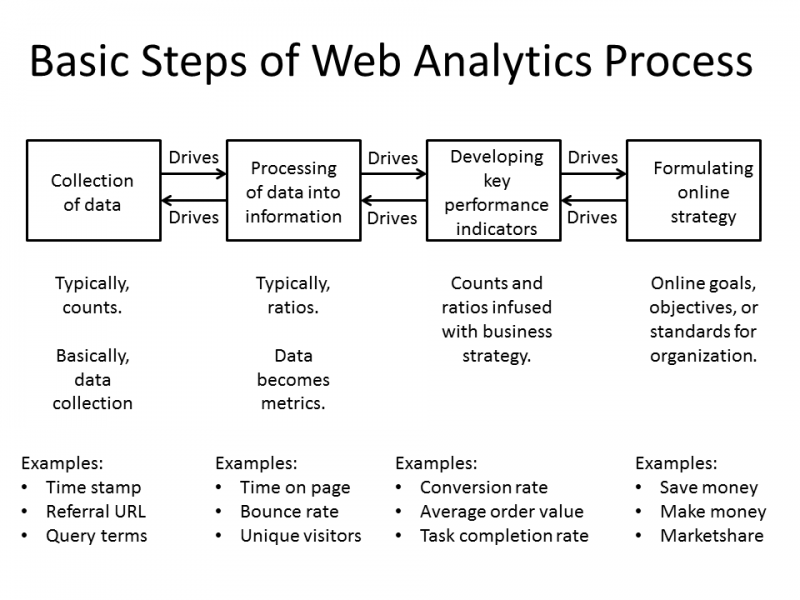 Collection of data
To start an analysis, you first need to collect the necessary data. Most web analytics tools insert JavaScript code into HTML text of websites so that they can capture data and store it in database tables. Data they capture may include webpage clicks, the device user accessed, geographic location of the visitor and so on.
Processing data into information
This step involves transforming data into metrics by creating ratios from counts you obtained in the first step. For example, bounce rate is dividing the early-leavers count by total visitor. Though this metric is important to understand the success of the webpage, it needs to be combined with other metrics and information to generate actionable insights to develop a marketing/business strategy.
Tracking KPIs
Organization track metrics important to their business strategy which are commonly called Key Performance Indicators (KPIs). They provide history to key metrics so companies can measure how they are progressing over time. For example, conversion rate and cost per conversion are typical KPIs.
Identifying actions to take
Reviewing all the analytics information and their business goals, businesses need to decide what to do. Continuous analytics enables organization to test the results of their strategies and make changes accordingly. For example, A/B testing is used commonly to improve conversions by testing two different designs for a page.
What is the source data for web analytics?
Visitor data
Data captured via javascript code snippets or cookies
Direct HTTP request data: Data sent by a web client (browser) to request a resource such as an image on a webpage
Application-level data sent with HTTP requests: This data is generated and processed by applications such as JavaScript, PHP, and ASP.Net and includes how a visitor interacts with the web page. They are mostly collected by internal logs rather than web analytics services.
External data needed to analyze visitor data. External data is combined with on-site data to help understand website behavior data. Most common example is understanding the geolocation of users since IP addresses associated with Geographic regions and internet service providers. This is a common feature offered by almost all web analytics software
Search engines
Other search engine related data
Server logs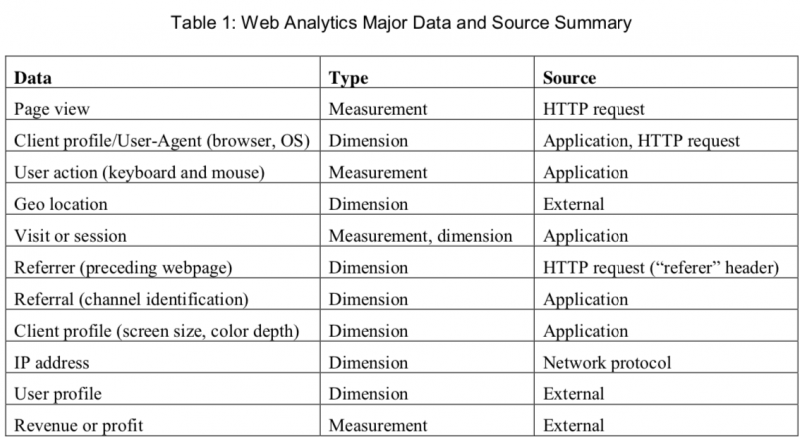 How does GDPR change data collection?
In EU, GDPR is a regulation law on data protection and privacy. After GDPR, companies are required to acquire the user's consent to record their data. That is why most EU websites nowadays feature a cookie disclaimer that asks users to accept cookies. If users do not accept cookies, none of their personal data can be stored. And most users are unlikely to accept cookies unless they are forced to accept them and GDPR prohibits companies from forcing users to accept cookies. However, this is not the end of your company's web analytics. We have seen 3 ways to mitigate the impact of GDPR:
Users who consent to cookies can be analyzed to gain insights into user behavior. However, this provides only partial data, the cookie accepting users are likely to differ in their behavior when compared to cookie refusing users.
Servers generate log files including non-individualized data such as visitor numbers per page. These can be used for high-level analytics as they do not constitute personal data
Data without personal information can be valuable as well. Vendors like Salesviewer use visitor data without relying on cookies by focusing on attributes like IP, browser characteristics, etc. to build a device fingerprint. Comparing this against their database, they can identify user's companies which they share with website owners. Their legal advisors certified them to be compliant to GDPR as well as national data privacy laws since their data processing is limited, pseudonymous and allows for opt-out.
Tools used in Web Analytics
Google Analytics:
Google Analytics is the first tool that is considered when it comes to web analytics. It is a totally free service that is user-friendly, updated, and very easy to use. It provides detailed statistics about the website visitors.
According to inc.com, it is used by over 50% of the top 10,000 websites of the world. It searches the visitors' history and sources, their activities, and frequency in the website and gives out more detailed reports on better involvement. It is one of the most popular and used web analytics tools.
Yahoo Web analytics:
Yahoo web analytics is like the advanced version of google analytics in terms of profiling, filtering, and customization. Once one has been well versed with google analytics, he/she can move to yahoo web analytics for a more detailed survey, and the best part is, it is also completely free to use.
It provides improved user access choices and a more straightforward approach to multi-site analytics, raw and real-time data gathering (unlike Google, which allows users to input cost of goods data), visitor activity and statistics, and customizable options.
Google Website optimizer
As we have learned in the previous section that experimentation is a very crucial step in the process of web analytics and one such free tool that helps in the experimentation and testing is the google website optimizer.
It is a complicated testing program that allows users to rotate different parts of information on their website to discover which sections and placements generate the most hits and, ultimately, the most revenue.
Facebook Insights:
This is another free web analytics tool for social analytics. People who use Facebook for their business can use this tool to make progress, engagement, and get insights into their business. It gives the user a lot of information about their follower count, likes, and comments on their posts or articles, among other things. There are two sorts of Facebook Insights, which are based on both users and interactions with the provided content.
4Q by iPerceptions:
It is another free web analytics tool that is equally powerful and provides detailed insights. The idea behind 4Q is to figure out what visitors are doing on the website. Surveys are an effective method to gain valuable data from your customers' genuine experiences on your website.
This tool provides short and simple surveys by asking questions like, " What are my visitors at my website to do?", " Are they completing what they set out to do?", or " How satisfied are my visitors?". This tool is one of the best free tools for understanding the voice of the customers.
ClickTale:
Now coming to paid tools, ClickTale provides a qualitative customer analysis that records all the activities of the visitors of the website. It employs Meta statistics to provide visual heat maps and reports on consumer activity, in addition to standard conversion analytics.
As mentioned on the website of ClickTale, the first three months are free for any user opting for a paid plan, after that, it can cost them up to $990. One of the best features of this tool that makes it better than google analytics is that it provides descriptive information on where the users are spending more time on the website and if they are getting stuck in any part.
Optimizely:
Optimizely is a new and powerful web analytics tool that is mainly used for experimentation and testing. A/B testing is a simple approach to assess and enhance any website. As a business, one may conduct tests using the site's simple visual interface.
The great thing about this tool is that users don't need any coding or programming experience to utilize it because the tools are simple to use. The users will need to pay $19-$399 per month to use Optimizely.
Resources:
https://www.godaddy.com/garage/what-is-website-analytics/
https://research.aimultiple.com/web-analytics/
https://research.aimultiple.com/web-analytics/
https://www.analyticssteps.com/blogs/web-analytics-tools-and-advantages
https://www.inc.com/guides/12/2010/11-best-web-analytics-tools.html